Help newborns, children (or anyone of any age!) naturally fall asleep AND sleep through the night.
Introducing the award-winning humidifier, sound machine and night-light in one! The Sleep Easy is the 5-in-1 sleep aid that is scientifically engineered for sleep. 100% safe for your child and it actually works!
Discover the ultimate solution to restless nights and early awakenings with the Glow Dreaming Sleep Easy – a sleep tool that's redefining the way you and your loved ones experience restful slumber. Say goodbye to sleepless nights and hello to a world of soothing dreams. With a medley of features designed to lull you into peaceful sleep, the Glow Dreaming Sleep Easy is your ticket to the most tranquil bedtime journey you've ever embarked upon.
Why Glow Dreaming Sleep Easy? 
🌟 Aromatherapy: Immerse your bedroom in a fragrant cloud of relaxation with our built-in aroma diffuser. We suggest the Glow Oil Lullaby for the perfect night's rest, or Glow Oil Breathe Easy when there are sniffles or coughs in the house.
🌟Cool mist Humidifier: The humidification feature helps maintain optimal air moisture levels to support breathing and a comfortable sleep environment.
🌟 Red LED Light Therapy: Embrace the calming effects of our unique red LED light therapy, known for promoting melatonin production and aiding in falling asleep faster. NASA uses this specific red LED light therapy to help its astronauts sleep. We bring the same technology into your child's bedroom.
🌟 Pink Noise & Lullabies: Drift into slumber with a selection of soothing pink noise options and gentle lullabies, designed to create a peaceful auditory cocoon for your mind. Studies prove that Pink Noise is the best sound for sleep. So we've worked with the world's best sound engineer to recreate it for you. Scientifically proven to induce sleep and block out background noise.
🌟Green to rise: When the light changes to green, it lets children know they are allowed to get up and out of bed.
🌟Control the Glow Sleep Easy using Glow Dreaming's free App. Changing behaviours, especially around sleep, is never easy. Glow Dreaming holds your hand through the process.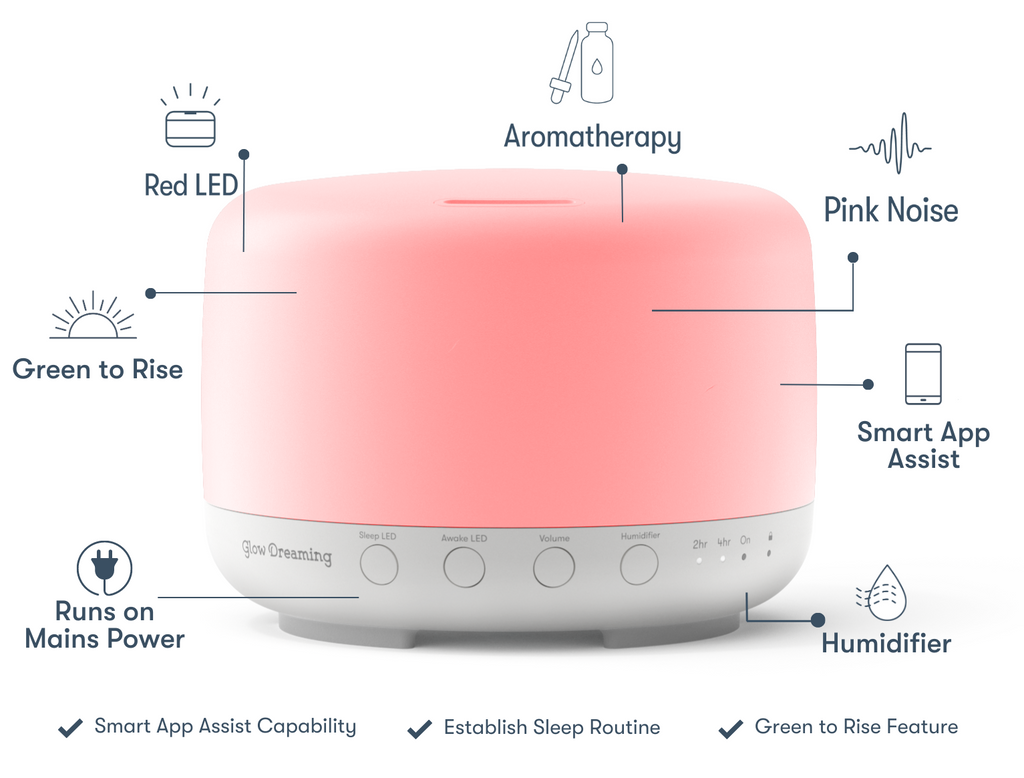 Experience sleep like never before with the Glow Dreaming Sleep Easy – a true game-changer in the realm of sleep aids. Engineered with the finest technology, it's your passport to the land of restorative rest and brighter mornings. Elevate your sleep experience today! 
It takes less than 60 seconds to set up the Glow Sleep Easy. Turn the device on 15 minutes before bed as part of your wind down routine and the Sleep Easy does the rest.
For tips and tricks on how to get the most out of your Glow Dreaming Sleep Easy, click here.
Risk Free 60-Night Trial
We want families to get the best sleep possible, with our risk-free trial and return policy, you can try Glow Dreaming risk free.
If you're not 100% in love after the first 60-nights, returns are easy with a full money back guarantee
Awesome little machine
We love our Glow Dreaming, such a handy device. Helps eliminate other noises in the house with the white noise, the diffuser diffuses oils and I love on the new one how you can operate it from the app on your phone